OAKLAND, CALIFORNIA– It's considered the "most wonderful time of the year" for national not-for-profit Outdoor Afro. And for 2022, the organization's always-anticipated Outdoor Afro Leadership Training (OALT) finally returns in person. "Two years ago, COVID forced us to shift our annual training into consecutive virtual workshops and interactive sessions," said Outdoor Afro Founder and CEO Rue Mapp. "We're so excited that we can now gather safely in a space that accommodates our staff, partners, and the 2022 class of volunteer leaders in nature."
OALT is where outdoor enthusiasts gain firsthand experience in navigating and leading in nature. This year's training with more than 100 new and returning volunteer leaders takes place at Sun Outdoors' River Run RV Resort in Granby, Colorado, starting Earth Day 2022 from April 22 through April 24. Coinciding with Earth Day's 2022 theme of "Invest in Our Planet," OALT discusses and puts into action outdoor conservation, education, and recreation so that volunteer leaders can create safe, sustainable, and nature-rich activities in their local communities across the United States.
Outdoor Afro's mission is to celebrate and inspire Black connections and leadership in nature. With a brand-new cohort of selected volunteer leaders for 2022-23, OALT is an intimate opportunity for volunteers, Outdoor Afro staff, and network partners to bond and continue to strengthen Black people's relationships with the outdoors. For this year's training, Outdoor Afro partnered with Sun Outdoors – a leader in outdoor hospitality with more than 175 resorts and campgrounds across the United States and Canada.
"This partnership with Outdoor Afro is an important element in our overall goal as a company," said Karen Dearing, Chief Financial Officer for Sun Outdoors' parent company Sun Communities, "creating a path towards fostering a more diverse society." At Sun Outdoors' River Run location, Outdoor Afro staff and experienced volunteers will share the organization's history, values, best practices, and industry knowledge, including: trip planning basics; health impacts of nature; conservation ethics; risk management; and effective social media storytelling.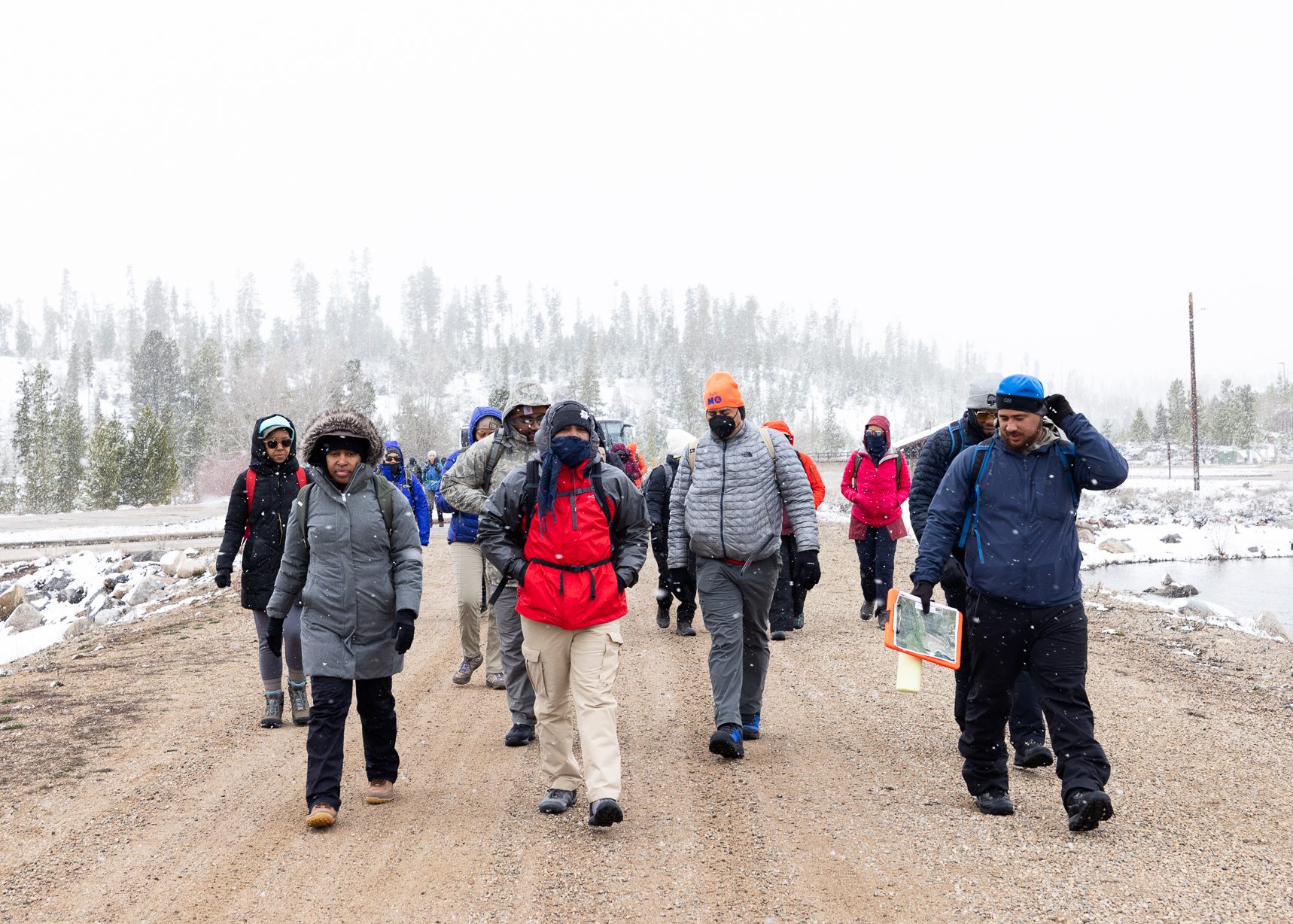 Select partners and guest speakers are invited to the training to provide field insights, and share inspiration and encouragement. After training, volunteer leaders create and guide monthly trips that foster local program collaborations, and help strengthen community relationships with land, water, and wildlife. Some examples of nature-rich experiences Outdoor Afro volunteer leaders guide after the training completes: camping, fishing, hiking, biking, kayaking, gardening, skiing, horseback riding, canoeing, geocaching, bird watching, nature journaling, and more.
Volunteer leaders center joy and healing, while also disrupting a false perception that Black people do not have a relationship to nature. Outdoor Afro formed 13 years ago. OALT started in 2012 with just a dozen volunteer outdoor enthusiasts. Each took the call to learn directly from Mapp about how to inspire and guide unforgettable experiences in nature. "OALT is like a family reunion," said Outdoor Afro's National Program Director Chaya Harris. "Our volunteer leaders join us from our four regions – Midwest, Northeast, South, and West – for a weekend filled with organized intergenerational fun and outdoor learning."
ABOUT OUTDOOR AFRO: Outdoor Afro is a national not-for-profit organization that celebrates and inspires Black connections and leadership in nature. What started as a kitchen table blog by Founder and CEO Rue Mapp in 2009 has since grown into a cutting-edge nationwide network with 100-plus volunteer leaders in 60 cities. "Where Black people and nature meet," Outdoor Afro reconnects Black people with the outdoors through outdoor education, recreation, and conservation. Follow us @outdoorafro on social.
ABOUT SUN OUTDOORS: Sun Outdoors is a leader in outdoor hospitality and committed to its mission of offering guests exceptional and transformative outdoor experiences. With over 175 locations across the U.S. and Ontario, Canada, Sun Outdoors offers guests several ways to stay: from RV sites to vacation rentals, from tent camping to glamping, whether they stay for a weekend, season or longer. Visit sunoutdoors.com to learn more. Sun Outdoors is a division of Sun Communities Inc., a publicly traded company which, as of September 30, 2021, owns, operates and has an interest in 584 developed manufactured home, RV and marina properties comprising over 155,900 developed sites and nearly 44,900 wet slips and dry storage spaces in 38 states, Canada and Puerto Rico. Sun Communities is a fully integrated real estate investment trust (REIT) listed on the New York Stock Exchange under the symbol: SUI. suncommunities.com.