OAKLAND, CALIFORNIA – An increasingly popular on-the-water experience for Outdoor Afro volunteer leaders is about to go into summer class again. Paddle Camp 2022 — in collaboration with boating and fishing equipment brand Northwest River Supplies, Inc. (NRS) — takes place July 30 through Aug. 6 on Lake Champlain in Burlington, Vermont.
"It's so fulfilling to help guide our volunteer leaders in activities that continue to strengthen our community connections to water," said Chaya Harris, Outdoor Afro's National Program Director. "Paddle Camp is an opportunity to teach proper paddling techniques and water safety so that our volunteers can take these lessons back into their neighborhoods."
With the support and expertise of NRS, camp engagement increased from 10 Outdoor Afro volunteer leaders in 2021 to now 20 volunteers wanting to learn boating skills that will help them better navigate and explore local waters. The seven-day summer session will include 10 canoers and 10 kayakers taking in-class and lakeside courses at St. Michael's College outside of Burlington. Each volunteer will take away invaluable training, earning a Level I or Level II kayaking or canoeing certification through the American Canoe Association.
"Breaking down barriers to the outdoors is about creating opportunities for people to develop the skills and knowledge they need to get outside safely and enjoyably," said NRS Chief Marketing Officer Mark Deming. "We're thrilled to be able to support this effort to prepare volunteer leaders from Outdoor Afro to share their love of the water with people in their home communities."      
DONATE TO SUPPORT THIS NATURE EXPERIENCE
Paddle Camp prepares volunteers to become certified canoeing and kayaking instructors. The camp is led by NRS ambassador, accredited paddling instructor, and outdoor school leader Todd Johnstone-Wright. Prior to last year's Paddle Camp, Harris also became a certified instructor under Johnstone-Wright's instruction and helped lead the inaugural Outdoor Afro volunteer leader cohort.
"Todd does an amazing job uplifting everyone as a fully capable learner while also honoring the knowledge and experience each participant brings," Harris said, "no matter how minimal their skill sets may be at the start of camp." Once camp completes, volunteer leaders are expected to host at least three post-camp activities in their respective communities across the United States. During 2021, volunteers exceeded this expectation, said Harris.
That year, up to 109 people learned how to paddle — as well as general paddle safety — after volunteers hosted follow-up paddling activities in their local communities. Outdoor Afro volunteer leader Antonio Simmons participated in the 2021 cohort. "I never imagined going into this camp that I would have an experience I thoroughly enjoyed the way that I did," said the Delaware, Maryland, and Vermont network leader. "I came away with so many new tools."
Harris anticipates volunteer leader participation and the overall community impact becoming something even bigger after this year's camp. Paddle Camp is just one of many professional development opportunities Outdoor Afro offers. The network's now 117 volunteers are able to expand their leadership and outdoor safety acumen within the industry through local events, national conferences, and seasonal expeditions.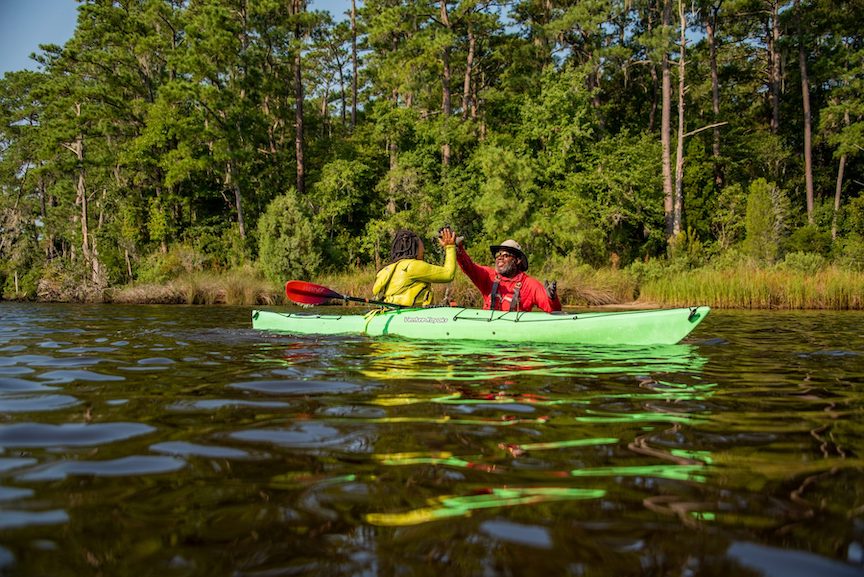 Annually, Outdoor Afro trains a select group of applicants to participate in its Outdoor Afro Leadership Training or OALT. This training equips volunteers with the essential outdoor proficiency to guide local communities in nature sustainably and safely. Paddle Camp is just another beneficial possibility that allows volunteers to build their nature portfolio. After successfully finishing the 2022 course, volunteers will have much to applaud alongside NRS, which celebrates 50 years in the business. Established in 1972 by business professor Bill Parks, NRS is the leading manufacturer of paddlesports equipment and apparel with a mission to empower adventures on the water.
In addition to creating boating gear, NRS is committed to preserving access to on-the-water recreation and to promoting stewardship of wild places. The brand works closely with national organizations and local groups throughout the world to help care for rivers, lakes, and oceans. "I was able to achieve my three classes in the DMV network last year as a result of Paddle Camp," said Simmons. "Some people had never been kayaking, so seeing the joy and excitement on their faces as their fear of the water went away was thrilling and eye-opening."
ABOUT OUTDOOR AFRO: Outdoor Afro is a national not-for-profit organization that celebrates and inspires Black connections and leadership in nature. What started as a kitchen table blog by Founder and CEO Rue Mapp in 2009 has since grown into a cutting-edge nationwide network with 100-plus volunteer leaders in 60 cities with network participation reaching 60,000 people. Outdoor Afro reconnects Black people with the outdoors through outdoor education, recreation, and conservation. Follow Outdoor Afro on social @outdoorafro today.
ABOUT NRS: NRS is 100-percent employee-owned and is the world's leading supplier of equipment and apparel for water recreation, safety, and rescue. Founded in 1972 with a vision to create a better kind of company, NRS is dedicated to promoting the health and well-being of its customers, employees, and community. For more information about NRS, visit nrs.com, @nrsweb, or call 877-677-4327.