Outdoor Retailer – North America's largest trade show in the outdoor industry – honored Outdoor Afro during its rather "snowy" Snow Show 2023 held Jan. 10 in Salt Lake City, Utah. Now back in its longtime home, the three-day show recognized the national not-for-profit organization as a royalty member at the Homecoming Court Party outside of Salt Palace Convention Center.
"It's such an honor to receive this recognition and invitation to participate in this special event," said Outdoor Afro Founder and CEO Rue Mapp in her 11th participatory year of the trade show, "but I actually owe this show more for helping me learn and grow my business. Outdoor Retailer has also ushered in my newest wave of lifelong friends who share my passion for connecting more people to the outdoors." However, gusts of wind, rain, and eventually snow ended the party early. The court gathered for a quick photo op before Mother Nature bumped up the coldness.
Local Olympian Gus Kenworthy planned to acknowledge the court's organizations and individuals making a difference in the outdoor community and industry. Outdoor Afro received the brief recognition alongside five other organizations: Conservation Alliance, Protect Our Winters, Conservation Alliance, Camber Outdoors, and The Outdoorist Oathe. Outdoor Retailer also honored local athlete and advocate Caroline Gleich; local CEO Kaitlin Eskelson; and local organization Save Our Great Salt Lake.
"The Homecoming Court symbolizes our welcoming home to Salt Lake City," said Outdoor Retailer Event Organizer Krista Parry. "We selected local organizations, industry organizations like Outdoor Afro, and national associations for our return to Utah. Rue is a true beacon of joy within this industry." Mapp followed up the organizational accolade Jan. 11 with Outdoor Retailer's Community Corners Campfire Chat – a "New at OR" section to the show that connects participants to industry influencers.
Nearly 40 fireside attendees fastened to a stump stool or stood nearby to learn about Mapp's first book "Nature Swagger." In collaboration with American publisher Chronicle Books, the project shares authentic stories and original visuals of Black joy in the outdoors. Campfire Chat participants listened as Mapp read about her childhood connection to nature and how those early experiences shaped the Outdoor Afro brand. Attendees traveled Mapp's journey from developing a national movement through Outdoor Afro to creating universal gear and equipment for any hiking interpretation in nature. Along with the first-time chat session, the show continued its tradition of introducing a new era of community, leadership, products, services, and fun. 
Re-establishing in Salt Lake City after a few years in Denver, Colorado, the show's return to Utah meant a brand-new Outdoor Retailer format: shifted show dates, amplified demos, a leadership conference, and consumer festival welcoming public participation. And the fifth annual Outdoor Retailer Innovation Awards – an always-favorite part of the event. Prior to this particular award, Outdoor Afro won the show's then 2013 Outdoor Industry Association Outdoor Inspiration Awards.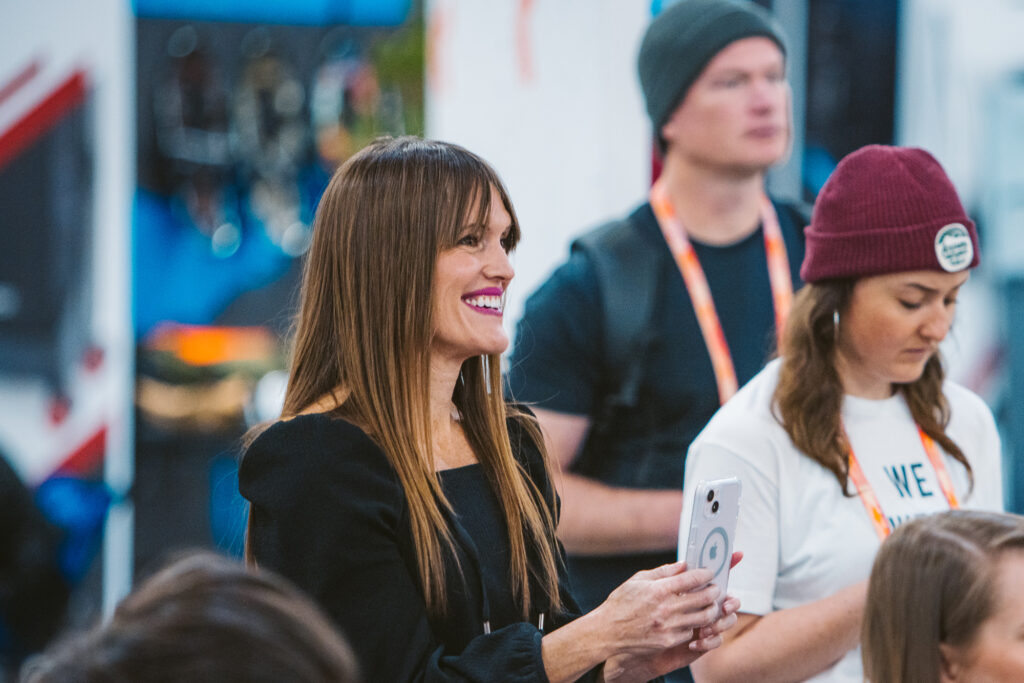 "As a 2013 Inspiration Award recipient, it continues to inspire my work," Mapp said, "and has helped Outdoor Afro live up to this vision as part of the industry and our nation." At the trade show, industry experts confirmed business has changed in what's a $862 billion-dollar outdoor industry, according to the U.S. Bureau of Economic Analysis. Therefore, Outdoor Retailer aims to help platform brands and support the retail ecosystem overall at the right moments throughout each year. "Outdoor Retailer has always been a resource for the outdoor industry," said Outdoor Retailer Vice President and Show Director Marisa Nicholson in Snow Show 2023 edition of show publication The Daily, "a space for innovation, inspiration, ideas, and advocacy."
ABOUT OUTDOOR AFRO: Outdoor Afro is a national not-for-profit organization that celebrates and inspires Black connections and leadership in nature. What started as a kitchen table blog by Founder and CEO Rue Mapp in 2009 has since grown into a cutting-edge nationwide network with 100-plus volunteer leaders in 60 cities with network participation reaching 60,000 people. Outdoor Afro reconnects Black people with the outdoors through outdoor education, recreation, and conservation. Follow Outdoor Afro at outdoorafro.org and @outdoorafro today.
ABOUT OUTDOOR RETAILER: Outdoor Retailer, the leading U.S. business events for the outdoor and winter sports industry, brings together retailers, manufacturers, designers, distributors, industry advocates, journalists, and more to conduct the business of outdoor recreation through commerce, unique product experiences, dedicated media events, content, and web-based business solutions. Outdoor Retailer provides critical platforms for face-to-face commerce, product launches, networking, and focused industry education to enhance business and support the outdoor recreation economy. Visit outdoorretailer.com for more information.